On Behalf of the Risk Management, Compliance and Legal Committee of the ISACA New York Metropolitan Chapter, you are cordially invited to the Webinar presentation of Cyber Risk and Compliance 2021 Event.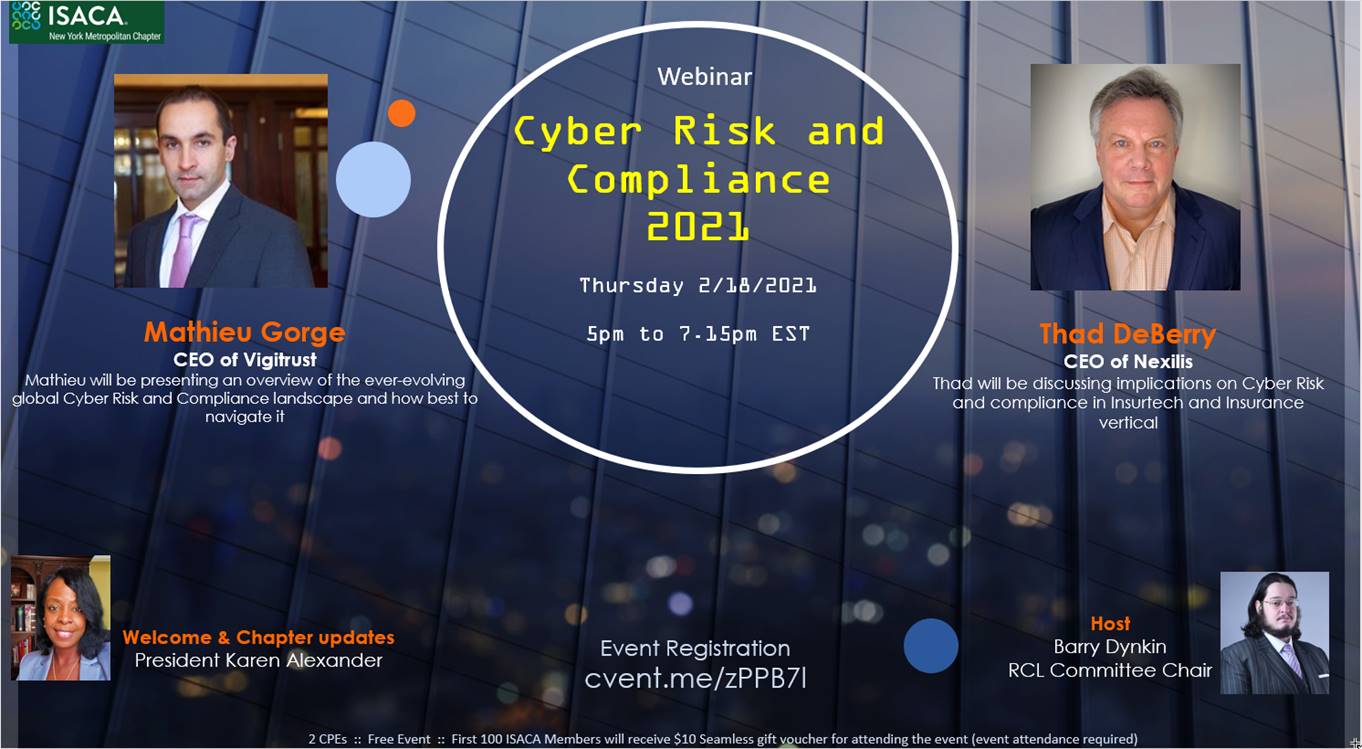 Event: Cyber Risk and Compliance 2021 (Webinar)
Presentations on how best to view, understand and navigate the Cyber Risk and compliance landscape in 2021 and beyond. Notations on best practices and solutions that mitigate risks.
Insurance Industry specific presentation overview will address impact analysis and role of innovative cyber risk and compliance solutions.
Date and Time
Thursday February 2/18
5 PM to 7:15 PM (EST)
Speakers:
Mathieu Gorge, CEO of Vigitrust

Mathieu will be presenting an overview of the ever-evolving global Cyber Risk and Compliance landscape and how best to navigate it.

Thad DeBerry, CEO of Nexilis

Thad will be discussing implications on Cyber Risk and compliance in Insurtech and Insurance vertical
Audience
All IT, Infosec, Cybersecurity, IT Audit, Insurance compliance. and GRC practitioners
Fees
Free for Members, Non-Members and Students
Notes
First 100 ISACA Members will receive $10 Seamless gift voucher for attending the event (event attendance required)
CPEs
You will receive 2 CPEs for attending the event in its entirety
Agenda in EST
5:00 - 5:05 PM- Opening Remarks and Welcome
5:05 - 5:10 PM- Chapter Updates by Chapter President Karen Alexander
5:10 - 6:00 PM- Presentation : Cyber Risk and Compliance 2021 by Mathieu Gorge CEO of Vigitrust
6:00 - 6:10 PM- Sponsors Message
6:10 - 7:00 PM- Presentation : Cyber Risk and Compliance in Insurtech and Insurance sector by Thad DeBerry CEO of Nexilis
7:00 - 7:15 PM- Raffles/Closing Remarks
Contact Us
Nexilis
Nexilis is uniquely positioned as an insurtech solutions and services provider to Insurers, Insurance distributers and emerging tech companies.Nexilis interweaves these relationships to present friction free digital and innovative practices, utilizing emerging technology solutions for a fraction of the current costs.
411 Route 17 South, # 310,
Hasbrouck Heights,New Jersey, NJ 07604
info@nexilis.cominvestors@nexilis.compartners@nexilis.comsales@nexilis.comcareers@nexilis.com